Our Recipe
Burrito Wallet Supports multiple cryptocurrencies and provides access to the most popular Dapps, Defi Platforms, and NFT Marketplaces. Become part of our community and earn rewards through active participation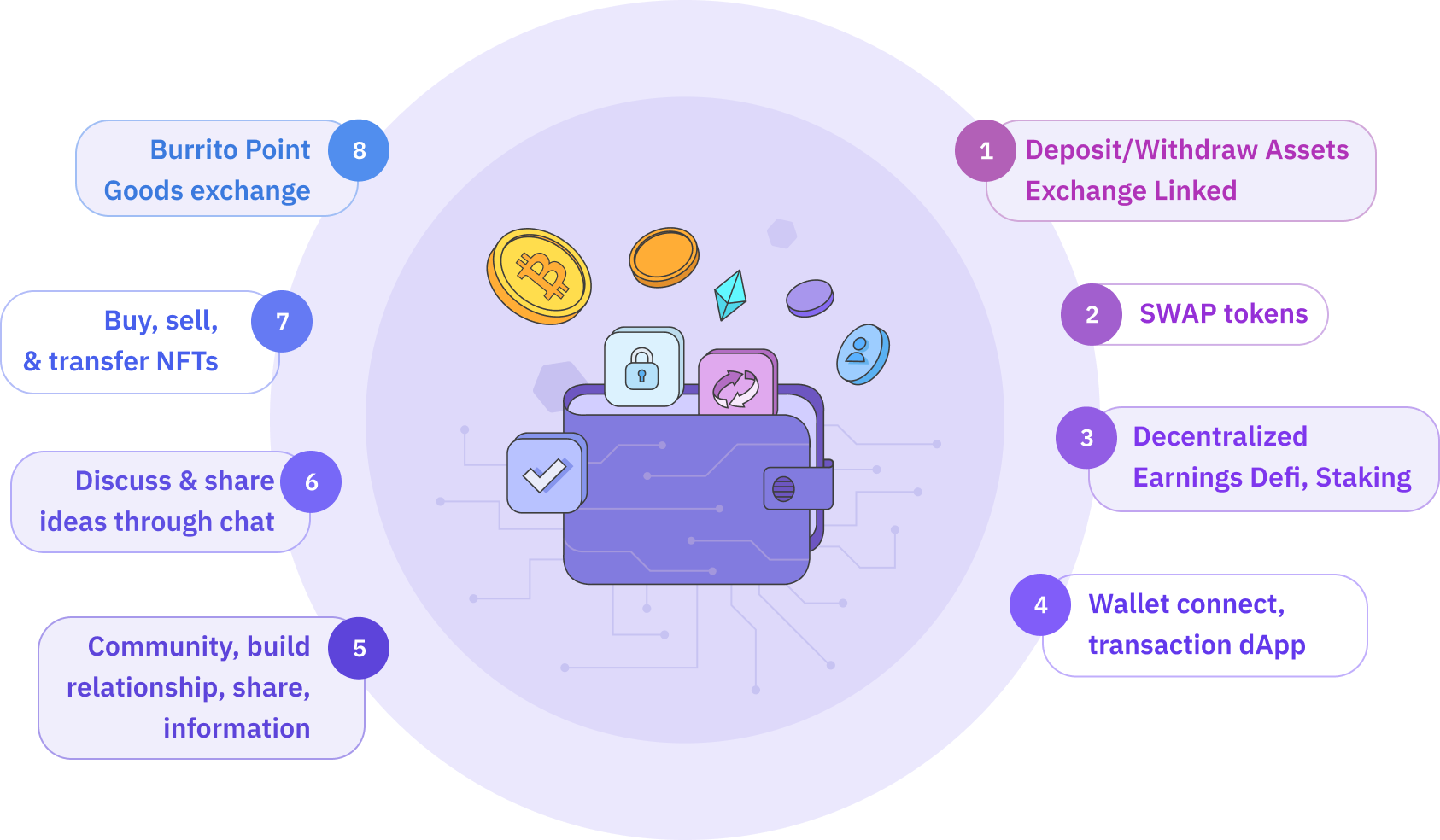 자산조회 입출금 거래소
스왑 DEX
수익창출 Defi
연결, 거래 DApp
소통, 공유 Peoples
공유, 토론 포럼
송금 친구
구매, 전송, 판매 NFTs
A Highly Convenient Web3.0 Wallet

Manage all your crypto assets effortlessly in a single wallet

Manage over 1,000
cryptocurrencies

Burrito Wallet provides comprehensive support for
over 1,000 cryptocurrencies through eight different mainnets.

Convenient Transfers

Users can now conveniently transfer assets with a simple push of a button and avoid mistaken transfers to wrong addresses.

Check the status of your transactions in real time


You can monitor the execution of your transactions in real-time.
Coming Soon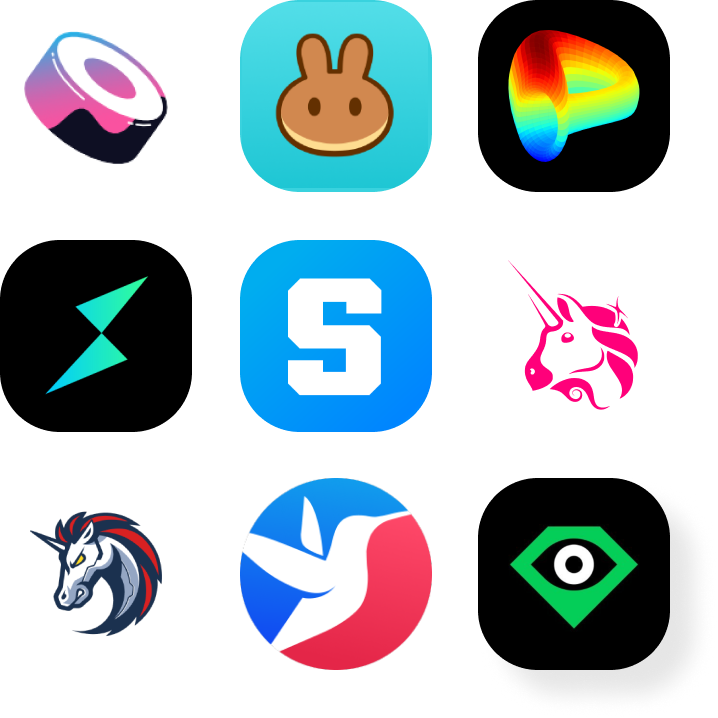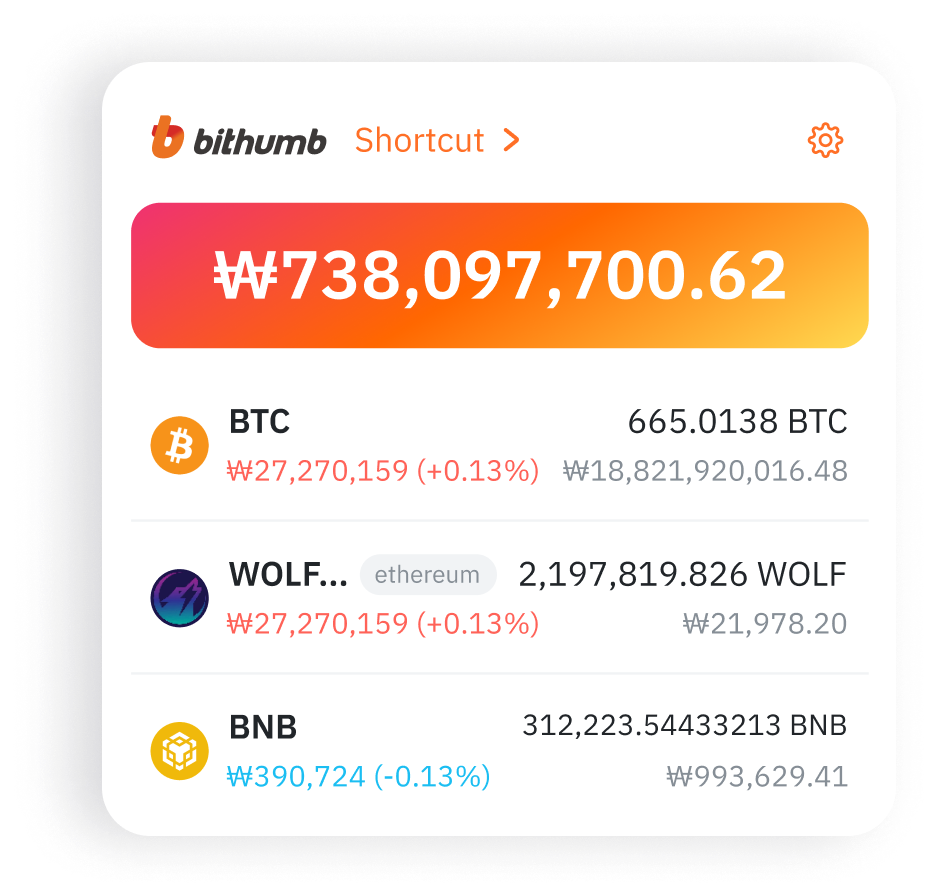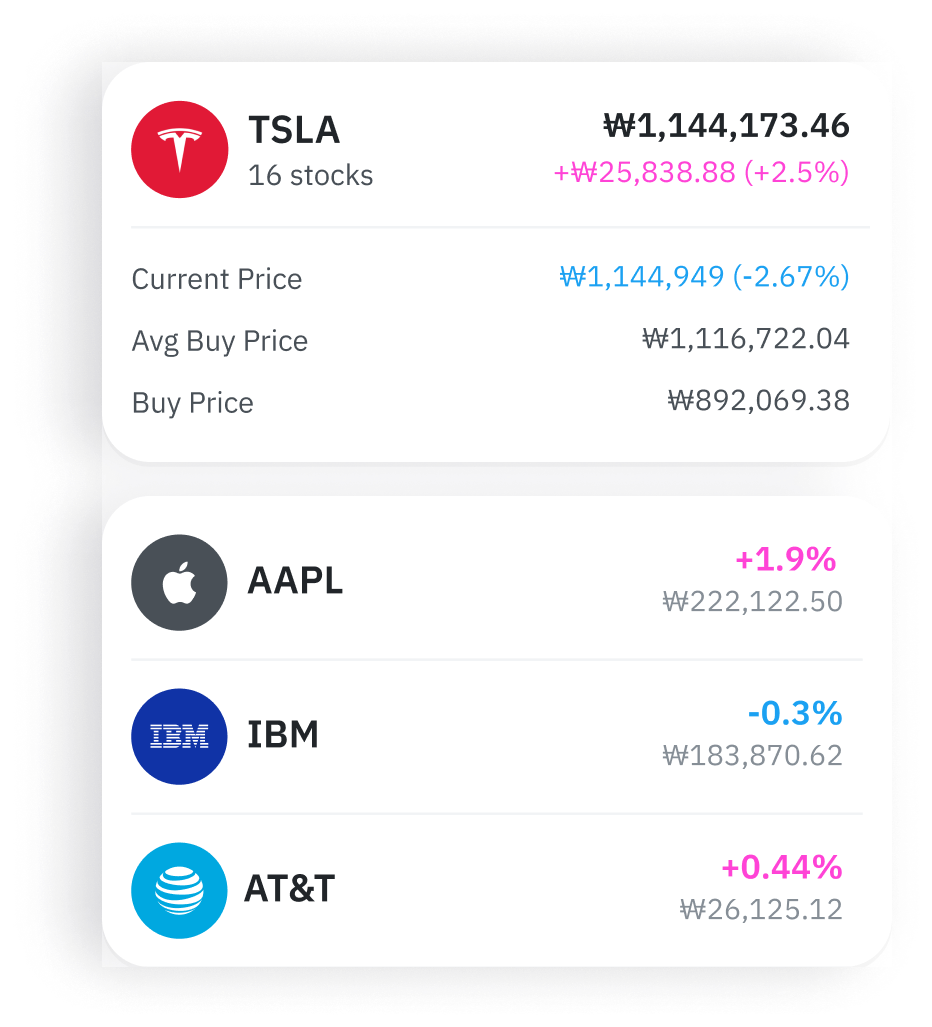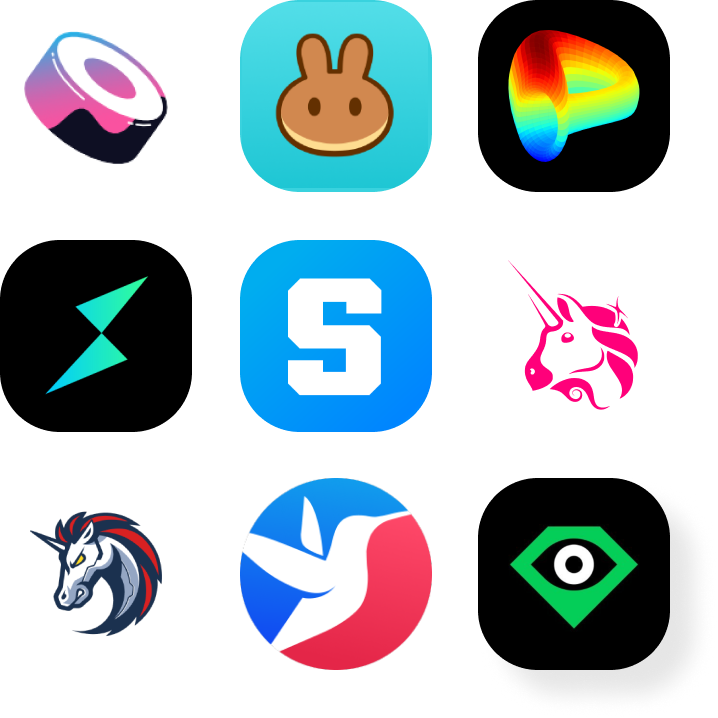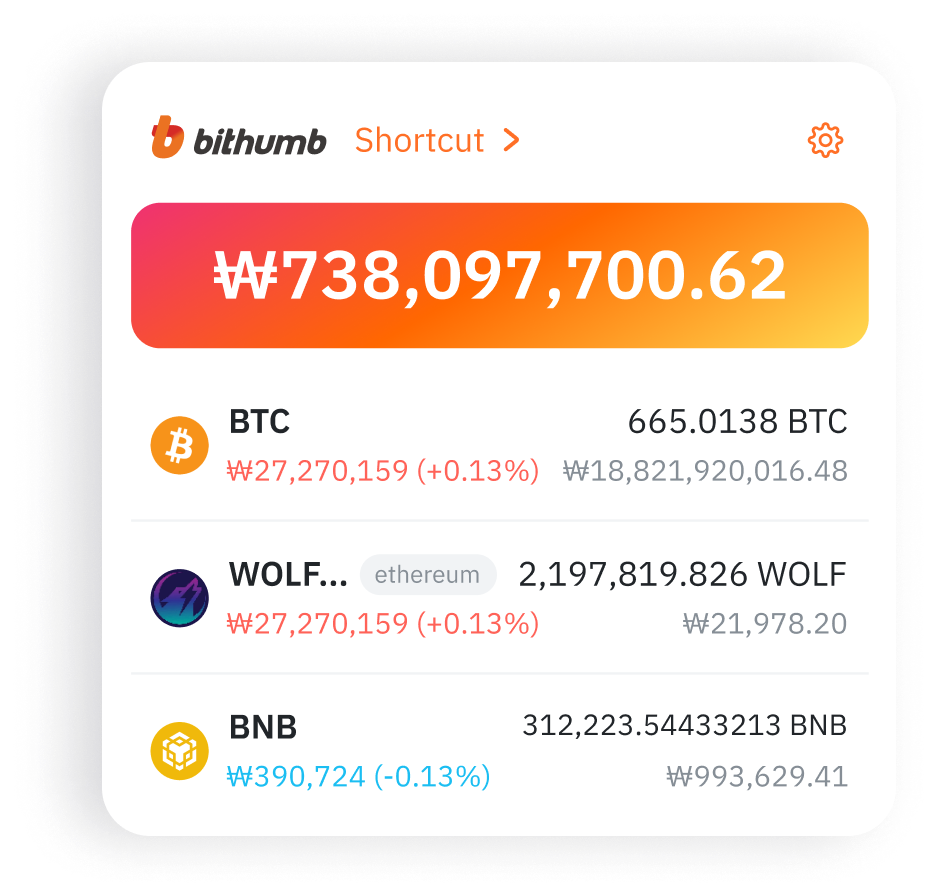 Manage your NFTs with Ease

Burrito Wallet provides a one-stop solution for collectibles

Store your NFTs with ease

Users can effortlessly access their collections.

Explore NFT Markets

Users can easily explore the Web3.0 and discover a wide array marketplaces and NFT Collections.

Transfer your NFTs

Users can easily transfer and share NFTs with their contacts within the wallet.

Flex your NFTs

Users can showcase their favorite NFTs by using them as their profile pictures.
Comprehensive, Optimal and Efficient SWAP
Can't find tokens you need at the main crypto exchanges?Burrito Wallet gives you access to a comprehensive set of liquidity pools to SWAP your tokens and get the best quotes with the lowest slippage.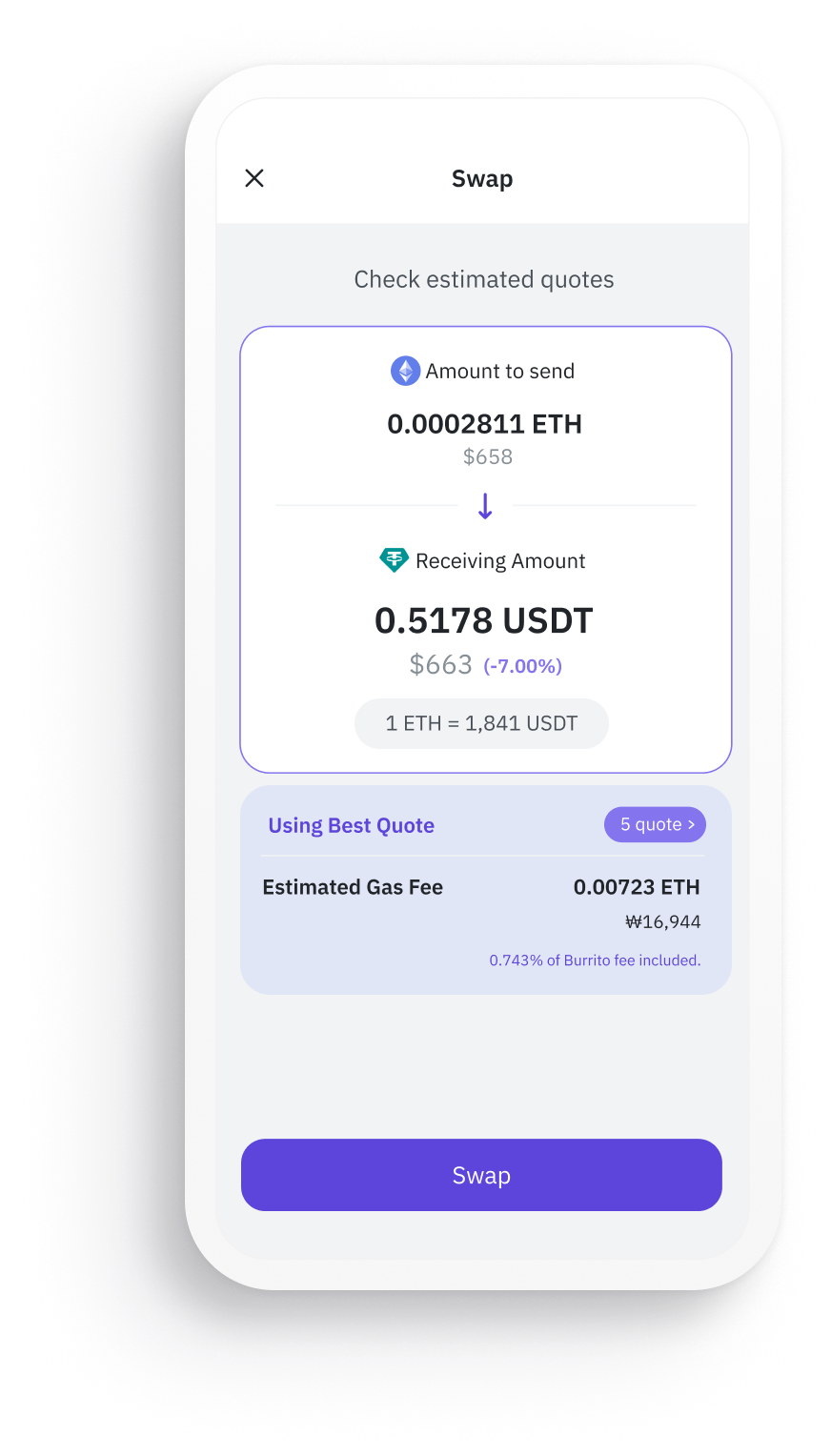 #Explore

Explore the hottest new Dapps & technologies in Web3.0.
Stay up to date with the latest market data.

#Swap

Swap tokens with the best quotes and the least slippage


#Staking

Stake your tokens and earn rewards

New Services
Coming soon - !
Our new service menu will be coming soon fresh from the kitchen!